Welcome Message
It is my pleasure to welcome you to the website of APAC (Asia Partnership Conference of Pharmaceutical Associations). APAC was launched as an industry-driven initiative in 2012 by twelve R&D-based pharmaceutical associations* from eleven economies in Asia, that agree to work together to realize the mission; "To expedite the launch of innovative medicines for the peoples in Asia". Since then, APAC has focused on activities in the fields of "Drug Discovery Alliances" (DA) and "Regulations and Approvals" (RA), to improve "Access to Innovative Medicines" (ATIM) in Asia.
Through our annual meetings in the past seven years, we have provided unique opportunities for constructive discussions among regulators, academia and industries on timely topics. In the recent 6th & 7th APAC, for example, we proposed and discussed common Site Master File (SMF) template, Post-approval variation, Conditional Early Approval (CEA) and Drug Discovery Eco-system using natural compounds, in which we have formed a better understanding of ATIM issues and ideas for solutions to those issues.
APAC's mission can only be accomplished with close cooperation with various stakeholders such as government bodies, regulatory agencies and academia. In this regard, we are proud of our collaboration with the APEC (Asia-Pacific Economic Cooperation Conference) Regulatory Harmonization Steering Committee, where APAC's activities have contributed to their efforts toward regulatory convergence in Asia.
We would also like to have stakeholders' understanding and continued support to APAC's activities toward the realization of our common goal "To expedite the launch of innovative medicines for the peoples in Asia".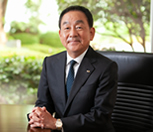 George Nakayama
President
Japan Pharmaceutical Manufacturers Association
* In 2017 China Pharmaceutical Innovation & Research Development Association (PhIRDA) joined APAC as a new member. All of the thirteen APAC member associations belong to the International Federation of Pharmaceutical Manufacturers & Associations; IFPMA.