Welcome Message
It is my pleasure to welcome you to the website of APAC (Asia Partnership Conference of Pharmaceutical Associations). APAC is an industry-driven initiative with thirteen R&D-based pharmaceutical associations joining from eleven economies in Asia that agree to work together to realize the mission; "To expedite the launch of innovative medicines for the peoples in Asia". Since its establishment in 2012, APAC has focused on activities in the fields of "Drug Discovery Alliances" (DA) and "Regulations and Approvals" (RA), to improve "Access to Innovative Medicines" (ATIM) in Asia.
Through our activities in the past, we have provided unique opportunities for constructive discussions among regulators, academia and industries on timely topics. In the 8th APAC that was held in April 2019, while continuing sessions of ATIM, RA and DA for discussion about Stability Data Requirement for Post-Approval Changes, Good Registration Management, Reliance Pathway for Approval of Innovative Medicines in APAC and Revitalization of Drug Discovery using Natural Products by Open Innovation in Asia, we launched Value-based Healthcare (VBH) session for the first time. It was meaningful to share with the APAC participants joining from Asia the recognition about the ongoing environmental change of society and the economy in Japan, and deepen mutual understandings about how we should address the issues regarding the healthcare and social security system in the VBH session.
Further, a new integrated report named "Pharmaceutical Market and Regulatory Environment (PMRE) in Asia" was created and offered to the APAC participants. We are very much proud of the teamwork provided by all the member associations to compile the informative deliverables.
In April 2020, due to the COVID-19 outbreak worldwide, we were not able to hold an annual meeting of the 9th APAC unfortunately, but all the member associations got together in "online convention". We reviewed our preparatory activities for the 9th APAC and also discussed about a direction for the 10th APAC to be held in April 2021. It was suggested and supported as a new focus area that all the digital tools and regulatory flexibility based on the real-world lessons we are learning would play a very important role in the era of "living with the new corona virus".
APAC's mission can only be accomplished with close cooperation with various stakeholders such as government bodies, regulatory agencies and academia. In this regard, we are proud of our collaboration with the APEC (Asia-Pacific Economic Cooperation Conference) Regulatory Harmonization Steering Committee, where APAC's activities have contributed to their efforts toward regulatory convergence in Asia.
We would also like to have stakeholders' understanding and continued support to APAC's activities toward the realization of our common goal "To expedite the launch of innovative medicines for the peoples in Asia". I'm convinced that our APAC's activities toward the realization of this common goal are becoming more and more important in order to overcome this extraordinary challenging situation.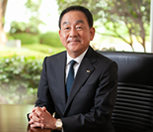 Nakayama George
President
Japan Pharmaceutical Manufacturers Association