8TH APAC
The 8th "Asia Partnership Conference of Pharmaceutical Associations (APAC)"
Our Mission: To expedite the launch of innovative medicines for the people in Asia.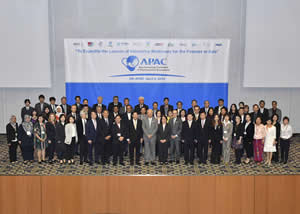 At the same venue with the same mission, but with more deep insight and further development, the 8th APAC have been held on 9th APRIL, 2019 at Tokyo.
Almost 400 from regulatory authorities, academia, and pharmaceutical industries in Asian region participated to the conference.
Chairman's Opening Remarks
Congratulatory Speech by Mr. Thomas Cueni of IFPMA
Value-based Healthcare (VBH) Keynote Lecture by Prof. Hiroaki Miyata
<Convention Agreement – Consensuses of each session>
VBH Panel Discussion
◆We have learned through this VBH session that there is clear consensus that we should allocate resources to truly valuable part on healthcare.
◆This theme is fundamental for future sustainable healthcare in the countries.
◆Please be aware that we are not focusing only to innovative pharmaceuticals, but much wider healthcare overall.
◆APAC will extend our efforts to deliver valuable solutions for patients collaborating with Governments' authorities.
◆We would like to deepen this Value-based Healthcare discussion in coming years.
Consensus of ATIM session
 The post approval change procedure by stability study commitment
◆JPMA has proposed the 'position paper' to accomplish APAC mission, including the post approval change procedure.
◆The position paper recommends the procedure for change application to employ stability commitment, instead of the submission of newly collected stability data throughout the shelf life at the time of change application. Discussion has been made on this point with the participants in ASEAN.
◆All the authorities participated in a panel discussion (Malaysia, Thailand and Indonesia) have agreed to consider this commitment procedure based on the science and risk base approach, by keeping regulatory science justification for the commitment.
◆PMDA introduced PACMP (Post-Approval Change Management Protocol) pilot program, starting from April 2018 in Japan.
Consensus of RA session
 Good Registration Management ~ Success of "Train the Trainers" ~
◆Continue to support "Good Registration Management (GRM)" led by Taiwan FDA and PMDA under Asia-Pacific Economic Cooperation (APEC) for aiming improvement of quality of regulatory submission and review on innovative medicines in Asia
1) Co-host the APEC GRM Workshop, which has started since 2016, with Taiwan FDA and PMDA, and continuously developing trainers who can promote GRM in their own countries in Asia ("Train the Trainers").
2) Further enhancing the quality of regulatory submission and review of innovative medicine by actively supporting GRM Workshops in Asia, such as APEC GRM Pilot Workshop newly hosted by Thailand, based on "Train the Trainers".
Regulatory Convergence ~ Reliance Pathway for Approval of Innovative Medicines in APAC ~
◆Encourage WHO's approach to the Reliance Pathway in Asia to facilitate efficient review and approval of innovative medicine based on bilateral/multilateral confidence-building by regulatory authorities.
◆Produce the following outcomes at the 9th APAC in 2020 based on the 3-years road map provided by the 8th APAC, as an effort to realize smooth introduction of the Reliance Pathway in Asia.
1) Proposal to optimize Reliance Pathway in Asia for encouraging WHO's approach
2) Training platform in Asia to disseminate Reliance Pathway
Consensus of DA session
APAC DA-EWG has been focusing on drug discovery using natural products for more than 3 years. The team effort realized the launch of "APAC Natural Product Drug Discovery Consortium (ANPDC) in December 2018.
Asia has advantages to carry out drug discovery using natural products. ANPDC is a unique open innovation platform not only to maximize the potential of natural products in drug discovery but to facilitate drug discovery collaboration in Asia.
◆Combination natural product and advanced technology (e.g. iPS disease models)
◆Capacity building of Asian young researcher at Japanese pharmaceutical companies
◆Co-evaluation of natural products initially without import/export of natural products through collaboration between an Asian country and a Japanese pharmaceutical company
Next milestone is to obtain promising outcomes from ANPDC by addressing some challenges.
◆Establishment of national natural product library in Asian country
◆Increase the number of member country, research institution/university and pharmaceutical company
◆Capacity building of Asian young researchers
Other matters
The 9th APAC will be held on April 7, 2020 at the Keidanren-Kaikan, Tokyo.
<Files used in each session>
VBH Panel Discussion
Access to Innovative Medicines Session
PMRE Introduction
Regulations & Approvals Session
Drug Discovery Alliance Session