Welcome Message
It is my pleasure to welcome you to the website of APAC (Asia Partnership Conference of Pharmaceutical Associations). APAC is an industry-driven initiative with thirteen R&D-based pharmaceutical associations joining from eleven economies in Asia that agree to work together to realize the mission; "To expedite the launch of innovative medicines for the people in Asia".
Since its establishment in 2012, APAC has provided unique opportunities for constructive discussions among regulators, academia and industries on timely topics to improve "Access to Innovative Medicines" (ATIM) in Asia. The recent achievements around "Drug Discovery Alliances", "Regulations and Approvals", "Post-approval Changes", "Value Based Healthcare, and "Pharmaceutical Market and Regulatory Environment" by each working group and task force are well recognized and summarized in this website. Moreover, we have begun discussing E-labeling and aUHC (Asia UHC) as new topics in 2020 and 2021, respectively.
The 11th APAC annual meeting was held online in April 2022. Under the theme of "Building a platform and delivering valuable innovation for the peoples in Asia", we discussed RWD (real world data) for precision medicine, regulatory preparedness for new modality medicine, E-labeling position paper, PACMP (post approval change management protocol) and aUHC.
As digital technologies such as AI, IoT and 5G rapidly develop, DX (Digital Transformation) opens the door for a number of opportunities for healthcare. Pharmaceutical industry can utilize it not only for seed discovery & development of new drugs, clinical trials and post-marketing surveillance, and stable supply of drugs, but also for disease prediction/prevention, personalized medicine, and extending healthy life expectancy of people. Given its huge potential to bring great benefits for the society, DX will remain to be one of the focus areas for the future APAC.
The pharmaceutical industry strives to extend healthy life expectancy and economic growth by developing innovative new drugs and healthcare solutions which can enhance healthcare outcome. We will promote cross-border collaboration and cooperate with the governments and academia. Under the unity of 13 organizations, we will work together to realize the goal of APAC.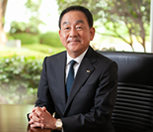 Yasushi Okada
President
Japan Pharmaceutical Manufacturers Association