About us
Regulations and Approvals Expert Working Group (RA-EWG) is an industry association driven expert working group promoting regulatory convergence, with the ultimate goal of expediting the launch of innovative medicine in Asia.
Through close collaboration among 13 member associations, RA-EWG aims at making practical proposals for our stakeholders -regulatory authorities and applicants in each economy - on shared regulatory issues in Asia.
Specifically, RA-EWG engages in the following two tasks in close collaboration with Asian regulatory authorities.
Task A: Good Registration Management
Introduction of Good Submission Practice (GSubP)
APAC Good Submission Practice (GSubP) guideline is a document for best practices proposed by RA-EWG under the concept of Good Registration Management, aiming at improving the quality of the submission.
Promote Good Review Practice (GRevP) by making proposals (APAC Position paper)
APAC Position Paper is to provide high level suggestions and proposals to regulatory authorities from the viewpoint of the industry.
Task B: Convergence of NDA requirements
Make Proposals to facilitate regulatory convergence of NDA requirements based on gap analysis.
We hope these activities would contribute to realizing regulatory convergence in NDA/Approval processes and eventually leading to mutual acceptance of NDA review reports or co-review among regulatory authorities.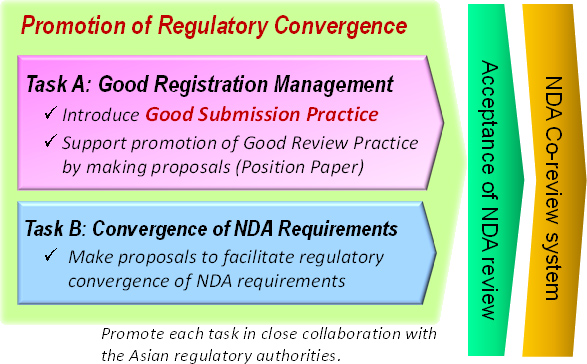 Members
Member associations of Regulations and Approvals Expert Working Group (RA-EWG) are as follows:
Economies

Associations

China

RDPAC


R&D-based Pharmaceutical Association in China
Hong Kong

HKAPI


The Hong Kong Association of the Pharmaceutical Industry 
India

OPPI


Organization of Pharmaceutical Producers of India
Indonesia

IPMG


International Pharmaceutical Manufacturers Group
Japan

JPMA


Japan Pharmaceutical Manufacturers Association
Korea

KPBMA


Korea Pharmaceutical and Bio-Pharma Manufacturers Association
Korea

KRPIA


Korean Research-based Pharmaceutical Industry Association
Malaysia

PhAMA


Pharmaceutical Association of Malaysia
Philippines

PHAP


The Pharmaceutical and Healthcare Association of the Philippines
Singapore

SAPI


Singapore Association of Pharmaceutical Industries
Taiwan

IRPMA


International Research-Based Pharmaceutical Manufacturers Association
Thailand

PReMA


The Pharmaceutical Research and Manufacturers Association
Vietnam

Pharma Group (associate)


European Chamber of commerce in Vietnam
Stakeholders
RA-EWG works closely with Ministries of Health/Regulatory Authorities and member associations to promote regulatory convergence in Asia. (Please refer to "Stakeholder links" for the full list)