5TH APAC
The Fifth "Asia Partnership Conference of Pharmaceutical Associations (APAC)":
~ APAC's continued challenge to create and improve access to innovative medicines ~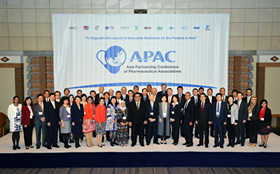 The Fifth "Asia Partnership Conference of Pharmaceutical Associations (APAC)" was held on 7th and 8th April with the mission of "To Expedite the Launch of Innovative Medicines for the Peoples in Asia" under the theme of "APAC's continues challenge to create and improve access to innovative medicines".
Based on the agreements described below, JPMA is determined to overcome the various challenges through cooperation and close collaboration with the pharmaceutical associations, government bodies, regulatory authorities, and academia in Asia.
<Convention Agreement>
1.General
APAC will continue to take on the challenge of improving "Access to Innovative Medicines" (ATIM) in Asia, in cooperation with various stakeholders including the government bodies of each country.
Specifically, we will continue efforts to address the issues of "Regulations and Approvals" and "Drug Discovery Alliances", and will identify and address additional priority issues related to ATIM, with the aspiration of contributing to the health of the people in Asia.
2.Regulations and Approvals
Implement training on Good Submission Practice as part of Good Registration Management in collaboration with stakeholders for envisioning regulatory convergence in Asia
3.Drug Discovery Alliances
Promote information sharing, networking and capacity building in drug discovery in Asia by making the best use of established APAC DA-EWG platforms.
Pursue drug R&D alliance opportunities to generate innovative medicines from Asia based on common understanding of strengths and features by academia and industry in Asia, as well as challenges that need to be overcome.
4.Other matters
The sixth APAC will be held in Tokyo in 2017 together with the 9th Asia Regulatory Conference (IFPMA).
ATIM Focus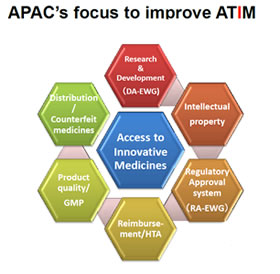 Innovation of new drug is the driving force to fulfil the unmet medical needs. IP, forms the foundation for innovation, and is most important to improve ATIM. In addition to DA & RA, APAC further discuss the possibility to set up a new EWG or project team.
Part1
Part2
Regulation & Approval Session
Progress in 2015
Good registration management roadmap (combination of Good Review Practices and Good Submission Practices) was endorsed in APEC Regulatory Harmonization Steering Committee (RHSC) in February, 2016. As a result, CoE pilot training is planned in November 2016.
Deliverables
APAC agrees
1. To endorse the following RA-EWG deliverables:
 ① Good Registration Management Roadmap
 ② Good Submission Practice Guideline
 ③ Task A Progress report
 ④ Updated Analysis report
2. To implement GRM CoE pilot training (Nov 2016)
3. To promote Task A activities which are to discuss continuously with local regulatory authorities
Drug Discovery Alliance Session
Deliverables
DAEWG continues:
1. To progress activities based on the following three pillars
 ① information sharing in research area
 ② networking in development area
 ③ capacity building not only for researchers in drug discovery but a structure or a rule in each
   country
2. To initiate activities that can leverage the strength in each country
3. To expand our activities toward Asian countries who have the will to be able to create innovative medicines.