10TH APAC
The 10th Asia Partnership Conference of Pharmaceutical Associations (APAC)
Theme : Overcoming COVID-19 and Taking on New Innovative Challenges for the Next Decade in Asia.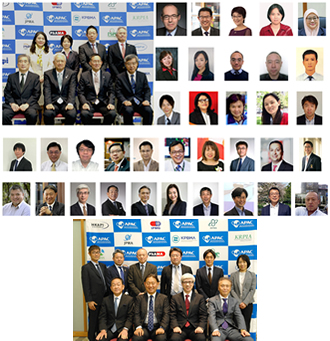 The 10th APAC (Asia Partnership Conference of Pharmaceutical Associations) was held as a virtual conference by ZOOM on Tuesday, April 13, 2021, starting 10:30AM(JST) until 18:20.
Mr. Thomas Cueni (IFPMA) gave us his congratulatory speech in video and Dr. Yasuhiro Fujiwara (PMDA) made a keynote speech on site about cooperation with Asian countries and PMDA's actions and global cooperation against COVID-19.
The 10th conference consisted of 5 sessions including new session for about e-labeling.
On this page, we put presentation materials including speech records presented at the conference by speakers/lecturers for the sake of all audiences so that they can get further understanding and profound insights from these materials. Thanks to all speakers/lecturers who allowed us to put their valuable materials.
Conference material(Consensus of each session)
Opening Remarks
Congratulatory Speech
Congratulatory Speech_Thomas Cueni_IFPMA
Keynote Lecture
〈Files used in 10th APAC Program〉
Regulations and Approvals (RA) Session
Background
APAC sent National Regulatory Authorities in Asia two letters which appreciate their regulatory agility during COVID-19 and mention there are four important best practices surrounding regulatory agility that we can work through collectively for areas in need.
For the 10th APAC, RA-EWG also provides the final Progress Report which summarizes the improvement on the focused topic(s) since April 2015.
Background
-At the 4th APAC in 2015, the APAC Position Paper provided the five high level suggestions and proposals to the regulatory authorities.
-APAC member associations have picked up topics of focus in their economy from the Position Paper, and annually summarized their activities in the Progress Report.
Access To Innovative Medicines Session 1 (e-labeling)
ATIM Session 2 (Post Approval Changes, BCS-based approach)
ATIM2-TF prepared following files for 10th APAC Conference :
Drug Discovery Alliances Session
Value-based Healthcare Session
Closing Remarks_Kenji Yasukawa